Roundhouse Upgrades and Enhancements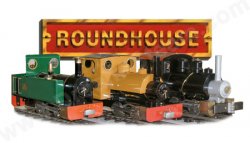 We are delighted to be introducing the British made Roundhouse Locomotives into the Dream Steam range. Roundhouse Engineering have a reputation for making some of the most successful precision engineered live steam model locomotives for the garden railway.
Offered ready to run in 32mm or 45mm and are available the variety of standard Roundhouse colours.
At any one time we will have a limited number of the Roundhouse locos in stock ready to dispatch, which will be stated ready to dispatch in the availability of the product, others will be made to order and for these there is a four week wait from date of order on the Basic series (Millie, Bertie and Sammie). The classic series are made in batches and the next estimated batch date will be in the product description* so please order before the batch date to try and ensure your desired loco is manufactured as soon as possible for you
*Batch dates are supplied by Roundhouse and we cannot always guarantee space left in a batch, particularly if the model is popular so please only use the batch date as a guide, however we shall contact you if a batch is full and waiting time will be longer.