Mamod & MSS Upgrade Kits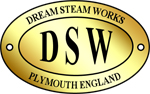 As well as our range of individual Mamod and MSS upgrade parts we have put together three economic kits consisting of the most popular combinations of upgrades to give three levels of improvement, plus a complete upgrade loco kit. All these kits offer exceptionally good value for money as they cost less than buying all the parts seporately.
The Starter Upgrade Parts Kit gives your loco an extra boost of power with a meths spirit burner and higher pressure safety valve so your loco runs at 25 psi, which is double the standard running pressure. You also get a more convenient method of keeping it in steam with a water top-up system as well as the ability to easily top-up the meths burner fuel tank, so you can keep your loco going all day without having to stop too long to take on water and fuel.
The Intermediate Upgrade Parts Kit includes the above but you also get a steam regulator, giving a finer degree of speed control, and O Ring piston inserts with gland nuts to get better perfomance out of your loco's standard cylinders. With this comes a Displacement Lubricator to deliver the right amout of steam oil to the pistons and a bottle of steam oil to get you going. You also get a set of finer grade machined steel wheels (32mm only) with locking axle bearing nuts to give a smoother ride.
If you don't already have a Mamod or MSS loco to upgrade or don't want to change your existing one there is no need to worry. We have put together our Complete Upgrade Loco Kit featuring our Full Upgrade Parts Kit above, plus all the remaining MSS loco parts required to build a complete fully upgraded live steam garden railway locomotive.